At the library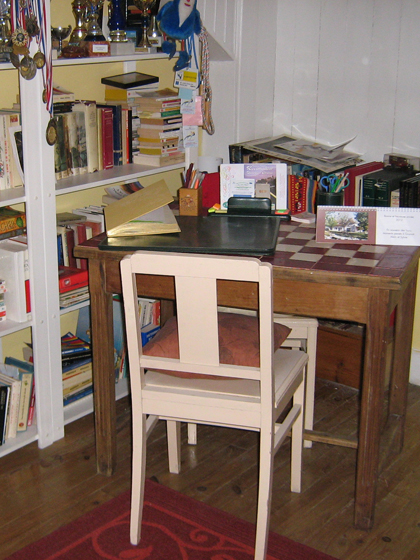 -> Time to relax and feel like home, a courtesy tray is available anytime at the library (tea, coffee and sweets).
-> Bookshelves filled with a great variety of books and magazines for everyone to glance through (french and english). Even the young ones will find a junior section specially reserved for them!
-> Maps and regional documentation to plan your sightseeing…
-> Des jeux de société pour tous les âges.
-> Parlour games available for all ages.
-> And the Guest book… « Livre d'Or »… We expect your comments, they are most valuable…
Attentive to all your wishes, and concerned by your greatest comfort, your remarks and suggestions are most valuable. Please, do not hesitate to let us know your impressions, your opinion... in advance, we thank you !
Practical side
-> Need an iron, a hairdryer? Just ask , you are our guests !
-> You are staying for a few days? on request, a linen basket will be given to you in the morning and when you come back from your sightseeing , it will be returned to you with your clothes freshly washed and folded.
-> Hot summer days have come back? Fans are available for each bedroom.
-> You wish to leave some drinks or food in the refrigerator? Ice packs in the freezer? Do not hesitate, everything is possible !
-> For Hikers : possibility of leaving your car at the Volets Blancs car park.
-> For the Cyclists : possibility of parking your bicycle in a closed and locked area.
Internet
Connexion WIFI

-> You wish to send an e-mail to your family? Or maybe you wish to consult your e-mails? The computer is available on request, just ask...